To support the reduction of gender gap across employment and entrepreneurship and in line with its commitment to the Nigeria2Equal program with the International Finance Corporation and building an inclusive society for women and overall economic growth, Bolt, recently held a Capacity Building Summit on Financial Independence, Leadership, & Self Defence among women in Nigeria.
Reviewing data from Enhancing Financial Innovation and Access (EFInA) which shows a relative gender gap of 33% in Nigeria's financial inclusion rate between men and women, it is imperative to foster discussions that seek to improve financial literacy and impact the financial well-being of Nigerian women.
The summit held at the Grand Junction Hall, Landmark Towers on the 3rd of April 2023 themed "Promoting Financial Inclusion and Independence for Women", had Bolt's female employees, Bolt's female drivers, and Tosin Olaseinde, Founder of Money Africa, all gathered to discuss the prospect of closing the financial inclusion gap and promoting financial independence.
While speaking at the event, Weyinmi Aghadiuno, Senior Public Policy Manager for West and Central Africa, discussed the importance of the summit for Bolt. She said, "Diversity, equity, and inclusion is important to the fabric of Bolt. This year's summit  we decided to take it a step further by delving beyond tech into the well-being of female entrepreneurs on our platforms and our female employees. After deliberating on the key issues impacting their well-being, we decided to focus the summit on tools to promote financial independence and safety, which tie into the core values of Bolt.
At Bolt, we know that women are resourceful and dependable. They have the brainpower, technical skills, intuition, and wisdom needed to move industries and nations forward. We encourage all organisations to take a step forward by empowering the women in their communities, even beyond their immediate employees. Hundreds are impacted when one woman is empowered", she concluded.
Also speaking at the summit, Tosin Olaseinde, the keynote speaker, shared that organisations need to contribute a quota to inclusive growth for women in Nigeria. She said, "Financial literacy is an extremely important lesson for Nigerian women. Research has shown that when money is in the hands of women, it boosts the entire family and community creating a ripple effect. It is important for companies to play their parts in creating inclusive growth, especially for women, because when employees are financially literate, they are happier and more productive."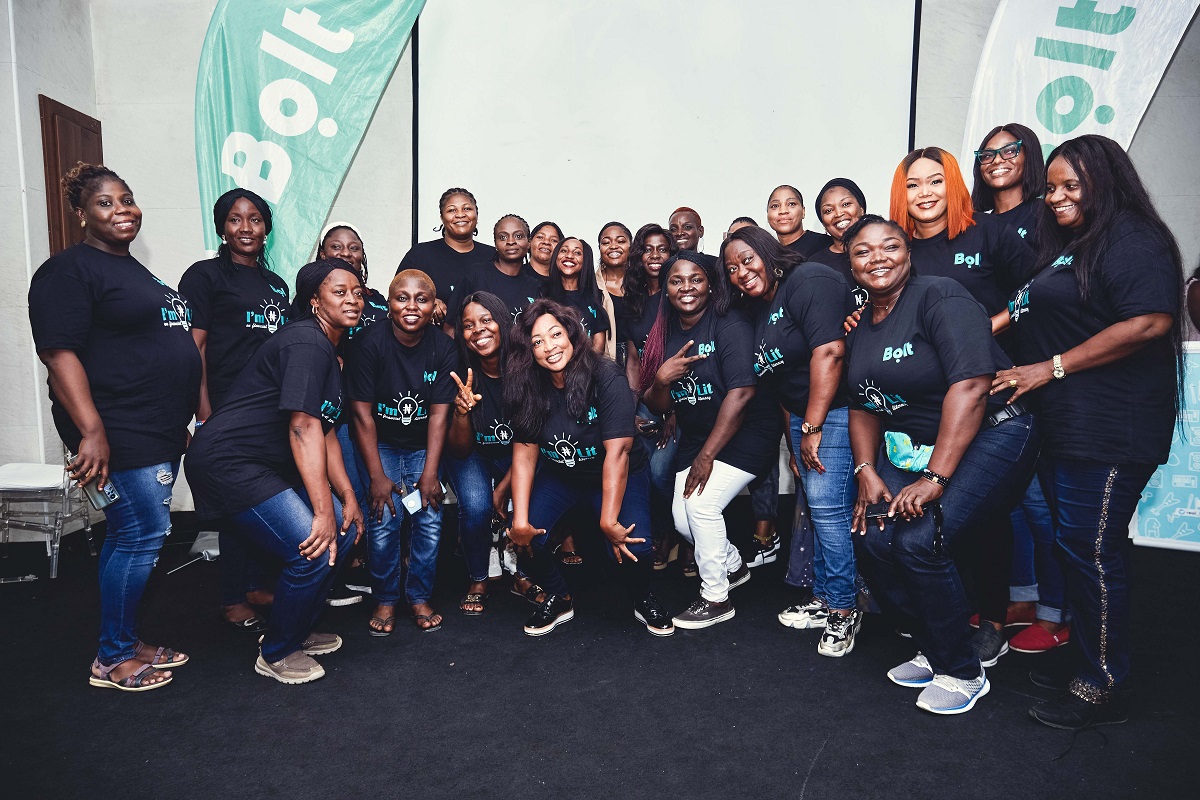 The event also included self-defence workshops for female drivers and employees, furthering Bolt's commitment to safety.
The upcoming launch of a digital community for Bolt's female drivers was announced at the event with the intention of providing a safe space and direct access to support staff and tools when necessary. Through this and its upgraded safety features, Bolt intends to ensure safe mobility for all on its platform.
[PHOTO – L-r: Thelma Philips, Workplace Experience Manager, Nigeria; Weyinmi Aghadiuno, Senior Public Policy Manager for West, Central & North Africa; Onyinyechi Madubuko, Operation Manager – Rides, Nigeria; Oluwatosin Olaseinde, Founder, Money Africa; Joy Kingsley, Customer Support Specialist – Safety, Nigeria; and Ogechi Mbatu, Marketing Specialist, Nigeria at Bolt's Women's Summit on Financial Independence, Leadership & Self Defence]