What is SEO (Search Engine Optimization)?
Search Engine Optimization (SEO) is the practice of growing traffic from organic search results. Free results on search engines like Google or Bing make up the core of SEO. The approach improves a website's ranking on the Search Engine Results Page (SERP).
SEO activities to improve ranking include:
Optimizing website structure to make it accessible and clearly understandable to search engine crawlers like Googlebot
Providing original and relevant content for end-users
Showing value with inbound links from other authoritative websites
Google's ever-changing search algorithms are designed to improve the relevance of search results for end-users. This can make the SEO process complex. SEO is an area of marketing often outsourced to marketing agencies, consulting groups, and freelancers.
Why Do I Need To Do SEO Of My Website?
Let's recall our previous SEO Definition! We are doing it to improve our site's visibility in search engine results. Search engines are the biggest and best sources of web traffic. You may already know the major ones, which are:
For sure, social media platforms like Facebook, Twitter, and Google+ can also generate many visitors to your website. But when it comes to the primary source, it's always a search engine.
I can relate this to some of my friends who still use the Google search bar to reach Facebook. And also, a newbie will always open google to browse anything.
The same stands true for regular internet users whenever they want to search for anything like article content, any services, products, or even any information.
Another big reason which is making the search engines unique is that they provide highly targeted traffic. We'll get people on our website who are looking for what exactly we are offering.
And search engines will do that on their own if we have done our website's SEO. Viewers from social media sites are not targeted.
BTW targeted traffic means increased exposure and revenue.
Don't hesitate to invest in SEO if you want to get an excellent return rate compared to any other marketing option. But if we don't do SEO according to Search Engine/Google SEO Guidelines?
Search engines might not be able to find our site. In short, we'll not be getting any traffic. While we do SEO, Users' search queries are critically important. These are the words that users type into the search bar for finding anything.
If we are not doing proper SEO by ignoring search queries, our websites will get ignored by search engines.
What If I Don't Do SEO Of My Website?
Here you must be thinking:
"Oh, Man! Isn't it the same question as to the previous one? And you just told, No SEO means No Traffic From Search Engines!"
Yes! You are right.
But I was hoping you could take a bit of unique insight into this question as well. And I am sure you won't mind reading this exciting information.
Once your website is live, search engines will crawl it to find out what's it about. Now, if a user searches for a topic related to your site, search engines will show it in its result pages.
Search engines are brilliant and continually improving their technology to crawl a website more efficiently. But still, they have limitations in their operation.
This is precisely where SEO comes into action.
SEO helps the search engines know more about a website's relevancy and other factors they can't do.
Rightly done SEO can give you thousands of viewers. Simultaneously, some wrong moves can disappear your website from top search engine result pages, leaving you with almost zero traffic.
SEO serves the purpose of making your site's content available to search engines and improves your website's ranking by placing it higher in the search results. And hence, more searchers will find your source quickly.
Competition is continuously on the rise. The ones who do SEO of their platforms will indeed have a distinct advantage in traffic and viewers.
I hope that the concepts are more precise now.
What are SEO Tools?
SEO software helps companies improve and track their SEO progress. A common feature is keyword and content analysis. This ensures that a site uses relevant language and content. The more relevant the content is to a target audience, the better the SEO ranking.
In other words, SEO helps a website speak the 'language of the web'. This helps sites remain discoverable by search engine crawlers and accessible to visitors. Most SEO solutions will provide an overview of keywords the website is currently ranking for, competitive keyword analysis, and keyword tracking for target keywords. Some tools may also offer a historical view of keyword rankings and related search volume.
How Google Works
SEO Software Features
There are a wide range of SEO platforms available in the market. Below are features that are typically common across different tools:
Keyword Analysis
Keywords are the phrases that represent the content of your website. They are the search terms a user might use to find your website. SEO tools track, recommend, and optimize keywords for your website. The tools find the most relevant keywords given your niche and target audience.
Backlink Analysis
Backlinks are URL listings on other websites linking to your site. These show search engines that your website is valuable and a trusted source of information. Backlinks are crucial in site rankings and reputation. Backlink acquisition, tracking, and analysis is an essential element of SEO software. Many tools will help users identify new backlink opportunities and keep track of existing backlinks.
Crawl Diagnostics/Site Audits
Some SEO software tools can also perform site auditing. Audits assess website structure to suggest improvements. Some solutions will automate the improvement process for you. SEO tools vary in the quantity and quality of SEO audits. Certain tools provide generic best practices, while others have more innovative suggestions.
Reporting & Analytics
Most SEO tools create reports and offer analytics for overall website and keyword rankings. These can include:
Competitive analysis
SERPs ranking tracking
Trend charts
Traffic analytics
Role-specific dashboards (CMO, CEO, etc.)
Share of voice analysis
Agencies
Many SEO platforms are intended for use by agencies. Larger SEO platforms offer rich and detailed white-label reports for these agencies. They'll also offer multi-domain management features.
Understand On Page SEO
SEO Trends
Mobile
Mobile optimization has become a key part of SEO. Websites that don't function on mobile devices will not rank as well on SERPs. They are also less likely to engage mobile visitors. This has become more important as mobile traffic continues to increase. Many companies have now adopted a 'mobile-first' approach to web design, ensuring content renders correctly on mobile before making any changes to the website.
Social
Social signals act as an indication of content quality. They have become a key element in search engine algorithms. Likes and shares are social endorsements of your content's relevance and overall brand. Many SEO products offer social signal tracking and measurement. Some products will also offer integrations with social platforms like Facebook, Instagram, and LinkedIn for better social engagement and impressions tracking.
Local
Local SEO optimizes a business website for a specific geographic location. Search engines are collecting more information about their users' locations. The goal is to provide more specific and relevant results. Focusing on local SEO can mean less competition.
Why Entity-Based SEO is a New Way of Search Engine Optimization
Search engine optimization (SEO) used to be defined by the number of keywords and keyword synonyms across your website's content.
When Google launched its knowledge graph, SEO shifted away from simply relying on keywords, and search engine crawlers began prioritizing rich snippets and entities on search engine results pages (SERPs).
These days, Google has more systems to identify the true meaning of keyword searches and queries. By categorizing ideas into "entities," Google revolutionized its search proficiency.
While keywords are still important, SEO experts now also use entity-based SEO to further their ranking efforts. Context and relevance are becoming increasingly important in search engine results, and entities can help improve these factors.
In this article, we'll explain what entities are, how to use them, and what the future of SEO might look like.
What Is Entity-Based SEO?
Entity-based SEO uses context, not just keywords, to help users find the information they seek.
While keywords are an essential part of your SEO strategy, they don't fully reflect how humans search for information. For example, a person who searches for "Paris" may be looking for Paris Jackson, the city of Paris (in France or Texas), the movie Paris Is Burning, or innumerable other options.
Google offers suggestions for searchers regarding additional context, which serves the dual purpose of speeding up their searches by showing popular options and reminding them to add more context if none of those are what they need.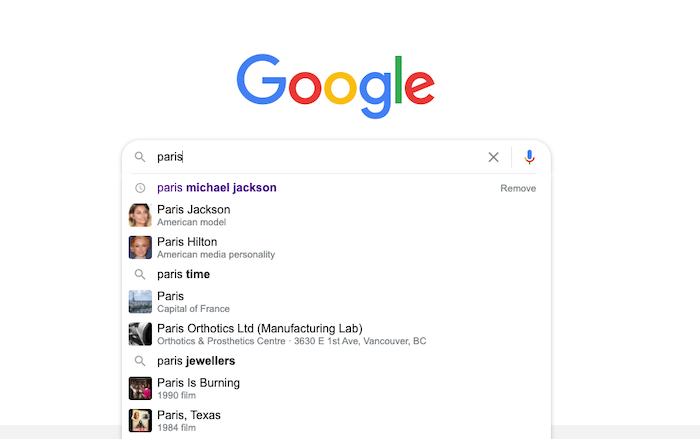 Entity-based SEO is helpful for searchers but slightly has made things a bit more complicated for content creators. Three ways entity-based SEO has changed the landscape include:
Better mobile capabilities: Entities allowed SEO to improve mobile results. Entities also improved mobile-first indexing, which is more prevalent than desktop searches. 
Translation improvements: Entities can be found regardless of homonyms, synonyms, and foreign language use thanks to context clues. For instance, a search for "red" will include results for "rouge" or "rojo," if the searcher's settings allow for this. 
Rich snippets: Rich snippets, which include things like photos and customer ratings as part of their results, generally outperform even number one search results.
SEO vs. SEM Approaches
SEO is closely related to Search Engine Marketing (SEM). SEM is sometimes called PPC (pay-per-click) or paid search marketing. An SEM strategy is focused on gaining website traffic by purchasing ads on search engines, while an SEO strategy focuses on maximizing organic (i.e. non-paid) search results by optimizing website structure and content.
Many companies use both SEO and SEM in their overall marketing strategy – using the same tools in the process. Combining SEO and SEM approaches together is called search marketing. The end goal is to grow website traffic, both organic and paid, from search engines.
SEO Software Comparison
There are many SEO software products available today. Consider these two key factors as you evaluate different SEO tools to help find the best product for your business:
Do you need a comprehensive SEO platform that includes a range of keyword, backlink, and website auditing analysis capabilities? Or would your business be better served trying out a free tool (or two) first? SEO products like Google Trends, Google Search Console, Ahrefs' Keyword Generator, and Hunter are all free to use. Though they may only focus on one of the feature areas defined above, or have limited functionality. Paid SEO tools are a better choice if your business is looking to adopt an SEO or search marketing strategy.
Would it be more efficient for your business to handle SEO and search marketing in-house, or outsource this work to a marketing agency? If you plan on keeping SEO activities in-house, along with a team of SEO experts, your business will also likely need to invest in at least one paid SEO tool (if not more). However, this makes it easier and faster to communicate with your SEO team and ensure that they are 100% focused on your business's SEO growth potential. Conversely, working with a marketing agency can help free up time and resources so that your marketing team can focus on other initiatives.
Pricing Information
Some Search Engine Optimization tools are completely free, while others may offer a free version or free trial. Top free examples include Google Trends and Moz Link Explorer. Both offer specific functions, like keyword and backlink research.
Paid SEO platforms usually start at $99/mo. for the 'pro' level. Enterprise-level tools can run up to hundreds of dollars per month.
---